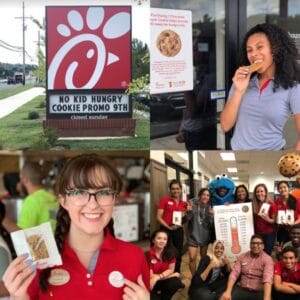 Chicken seasoned to perfection and served on a toasted buttered bun with pickles?  Yes, please! Partnering with Chick-fil-A, the company that perfected the chicken sandwich and mastered the client experience was a no brainer.  Sure, increasing our intake of Chick-fil-A's amazing food was something we were ecstatic about (purely for market research, of course), but ultimately we were thrilled to work with a brand as notable for caring about people as they are for caring about the quality of their food. The alignment between Alliant and Chick-fil-A over the past decade has been a powerful match!
Alliant's creative team has enjoyed helping operators locally, marketwide, and chainwide promote various offerings of their restaurants.  While Alliant has served hundreds of Chick-fil-A restaurants across the country, our main focus has landed on the local DC Metropolitan locations and helping direct their market-wide strategy.  We have helped the Chick-fil-A market in a myriad of ways, from creating high level social strategies and event planning to designing print materials, digital assets, and websites for unique initiatives. Over the last several years we have helped the DC market and individual restaurants build sales in catering and inform customers about the benefits of the Chick-fil-A app.  We have also implemented and helped coordinate social media campaigns that promoted market-level app giveaways which helped grow app usage over 30%.
But marketing and driving sales is just one side of what we do for Chick-fil-A restaurants. Helping them care for their communities both local and abroad is what we feel most strongly aligns Chick-fil-A with Alliant's business philosophy and is what has helped fuel the longevity of this partnership. We have helped coordinate their Military Appreciation event which provides the military and their families a free meal to thank them for their service, a cookie fundraiser with No Kid Hungry to serve the most vulnerable children in our area (raising over $109k!), and extended care for those outside of the market by partnering with organizations like Operation Christmas Child and Freeset.
Interested in how we can help align, implement, and synergize your marketing strategy? We'd love to chat. Connect with us and let us know how we can help!