Fairfax Website Design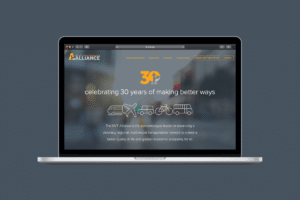 In the digital age, your website acts as your business card. Having one is a necessity to reach potential customers — but having one that's well-designed can make all the difference in how easily you convert leads and establish yourself as an industry leader.
That's why it's vital to invest in the kind of web design Fairfax customers expect to see. It's no longer acceptable to merely set up a homepage and call it a day. You need to have a visually attractive and highly functional site that will show your professionalism and tell your story — all while providing valuable information to capture your audience.
Although you may have seen commercials or other advertisements that make it seem easy to DIY your Fairfax website design, this is actually a task that should be left to a professional web design company Washington DC area businesses can depend on. There's only so much you can accomplish with a drag-and-drop template. Without expert assistance, you could end up hurting your business. For example, you might add visual elements that slow down your site speed, fail to optimize your webpages for search engines, or prioritize flashy features over functionality. As a result, you might end up risking your web visibility and professional reputation while unknowingly decreasing your traffic, leads, and conversions.
But by working with an established web design agency Washington DC businesses trust, you'll end up with a beautiful website that provides the relevancy and value visitors want. We'll work with you to create a customized design that incorporates a number of disciplines. We believe in a holistic approach to website development and design, meaning that we'll cover all the bases. From branding and content strategy to user experience and search engine optimization, our team will ensure your website instantly communicates who you are, what you're about, and why you're the best choice available.
With help from our Fairfax web design team, your website will look extraordinary and will allow you to reach your ultimate business goals. To get started, please get in touch today.
Web Design Portfolio Items
0
Established Years of Solutions